IRIB Varzesh Live – (شبکه ورزش) (Persian: English: Sports channel, Shibkah-e Varzesh) is a national sports TV channel in Iran . It is the fifth Iranian television channel to broadcast in digital mode and the second one to broadcast in High Definition quality. The name IRIB Varzesh literally translates to "Sports channel, Shibkah-e Varzesh."
This station airs coverage of various sporting events that take place in Iran and throughout the world. On November 29, 2020, receivers for terrestrial radio and satellite television began transmitting channel programming in high definition (HD) using the HEVC coding standard.
History:
The introduction of digital broadcasting in Iran and the subsequent growth of the country's capacity to use this technology was responsible for the growth of IRIB Varzesh Live – (شبکه ورزش).
On July 31, 2012, IRIB Varzesh Live – (شبکه ورزش) began broadcasting on the third transmitter throughout the provinces. Currently, Sina Motazedi serves in the role of director of this channel.
Range of transmission:
Digital transmitters operating on the ultra-high frequency band make it possible for this network to transmit signals to the vast majority of Iran. The channels shown on this network can be seen in Asia, Europe, and the Middle East and that is all thanks to the satellite called Badr-5 . Customers can only watch live broadcasts of football, volleyball, basketball, handball, tennis, and other sports competitions, but they can also watch these shows and films offline.
There are many sports that can be viewed on the channel including football, volleyball, and track & field. It is always on-line and is operational 24 hours a day.
Programming of IRIB Varzesh Live – (شبکه ورزش)
The programming of this television network is also made available online and on the website of the television station for no charge.
How to get photos from a sports network With the help of HD satellite receivers ? it is now feasible to receive images transmitted by the Sima sports network through the Badr 5 and Intelsat 39 satellites. Two weeks after the globalisation of the Sima sports network, the coding system of this network is now active on the frequency 11880/horizontal/27500 of the Badr satellite (Arabest) and the frequency 11555/vertical/30000 of the Intel Sat 902 satellite, both of which can only be received by HD receivers.
These frequencies are only accessible to those with HD receivers. As a direct consequence of this, the majority of digital transmitters across the country have, as of the 21st of August 2019, found a solution to the issue of receiving this network. An HD receiver is the only electronic device that can receive the signal broadcast by the SIMA Sports Network on the frequencies stated.
The SID for this transaction is 083, and the BISS code is 77 77 77 65.
When IRIB Varzesh Live – (شبکه ورزش) began its trial ?

The IRIB Varzesh Live – (شبکه ورزش) its trial activity with six hours of programming per day and broadcasting Olympic documentaries, the history of World Cup competitions, educational documentaries in the field of sports, and coverage of some competitions; now, its broadcasts are available twenty-four hours per day.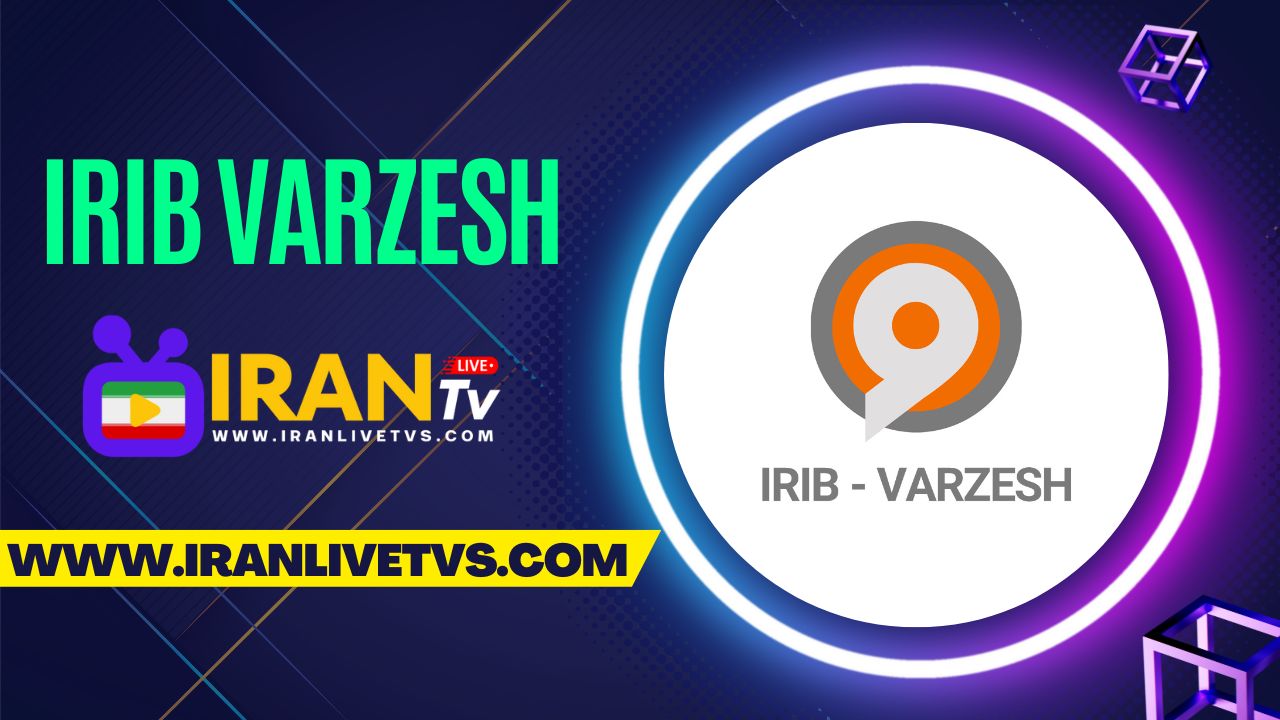 Programs of irib-varzesh-live-شبکه-ورزش:
On a weekly basis, IRIB Varzesh Live – (شبکه ورزش) broadcasts two matches from the Persian Gulf Pro League. Additionally, the station broadcasts crucial Azadegan League matches on occasion. In addition, documentaries on the Olympics and World Cup as well as instructional sports films, are shown on this channel.
In addition, IRIB Varzesh Live – (شبکه ورزش) broadcasts a number of well-liked Iranian wrestling programmes, such as 120 Football, which focuses on European Football, Meydan, which focuses on Iranian sports, and Lezate Football, which primarily televises matches from Europe and International football competitions. Throughout addition to other competitions, Varzesh hosts a volleyball tournament in Iran and around the world.
Who is in charge of irib-varzesh-live-شبکه-ورزش?
Iran Broadcasting Corporation is in charge of the country's several national television networks, and one of such stations is irib-varzesh-live-شبکه-ورزش. Sina Motazadi is in charge of managing this network. This network airs coverage of various sporting events that take place in Iran and throughout the world. Beginning on November 9, 2019, reception of network programming in full high definition and using the HEVC coding standard also began on terrestrial and satellite receivers.
Beyond the Bench:
A Football Analysis Program is one of our programmes. Football 120 is a show that airs on Thursdays at 23:00 and summarises the games played in European leagues. It is done by Hamid Mohammadi and produced by Adel Ferdosipour. Football Nights is a show that is hosted by Mehdi Totunchi that provides analysis and interpretation of the games played in Iran's main football league, the elimination cup, and other key national football events.
The sheer delight of football:
This programme, which airs on Saturdays and Sundays as well as the evenings of the European Champions League, broadcasts live and provides analysis of European football. Additionally, he occasionally plays notable footballs throughout these broadcasts. Rasool Majidi is the one in charge of hosting the show.
Videocheck:
It is a humorous show with a sports theme that is performing by Abdullah Rawa but It also deals with the off-field activities that occur in football.
Football 1 in irib-varzesh-live-شبکه-ورزش:
The Football 1 programme is the sole specialist programme of the Azadegan League. It evaluates the contests and completely covers the appealing aspects of the League 1 while also providing refereeing experience. The 2020 show is the first dedicated futsal and beach soccer programme on television. Its audience like it since it strives to represent the contests as well as assess its news and sides. This programme is by Behnam Asaish and performed by Mohammadreza Alipour for guests interested in futsal and beach soccer on Tuesday evenings
This programme shows all the coverage of live sporting events all around the world. The book features an amazing array of topics from interviews to features, documentaries to podcasts and much more.
Administrative Staff of irib-varzesh-live-شبکه-ورزش:
The morning magazine of Sports Network investigates the topics, subjects, and obstacles associated with Iran's Sports Day. The magazine investigated the activities associated with Iran's Sports Day. with the presence of professionals from different departments.
This programme focuses on live video communication and provides coverage of significant sporting events as they happen live. Positive Sports:
Countdown:
Each countdown programme will analyse the top 10 athletic events linked with the program's subject area.
The globe of sports is a show that broadcasts and summarises the many sporting events that take place across the world.
This magazine, with the voice of Peyman Yousefi, conducts interviews with the players and coaches that are participating in the European Champions League.
Positive Volleyball:
The Kohghesht specialised programme focuses on the competitions and competitions of mountain climbing and sports climbing.
Sima Sports Network presents a show devoted to the martial art of taekwondo called Iranian Taekwondo.
The Sports Camera app focuses on providing coverage of significant sporting events all around the world.
Club:
The purpose of this programme is to motivate and direct participants through the process of achieving physical fitness at a low cost and in their own homes.
Persiana Korea TV Live – (پخش زنده شبکه پرشینا کوریا) is one of Persiana Media Group channels.
You can also watch other channels like irib-varzesh in our iran TV Channels android and Afghan TV Channels ios applications.
Beside these channels, you can also watch other Iran Live TVs in our Android app : IRIB Varzesh , IRIB Mostanad Live, IRIB TV1 Live , IRIB TV2 Live , IRIB TV4 Live, IRIB TV5 Live, ,and many more..
If you want to optimize your website and get really good results and increase your revenue you should visit this awesome website https://seofreetoolz.net/ .
The other awesome website that you need in your everyday life is this Temporary Mail creator where it allows you to create as many disposable emails for free . https://tempmail247.com/ .